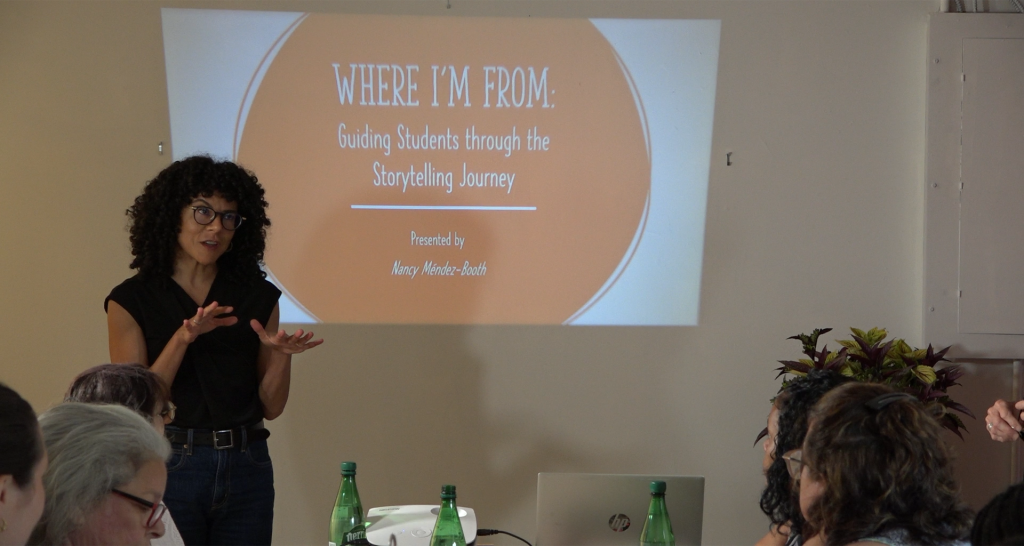 PROFESSIONAL DEVELOPMENT TRAINING FOR TEACHER
Transformative Storytelling was a four-day intensive training experience for teachers who want to gain confidence and develop skills to use storytelling to build literacy, foster social-emotional skills, and create equity-based learning environments within their classrooms.
Our Instructors
HERE IS WHAT SOME OF THE ATTENDEES SAID ABOUT THE TRAINING
"One of the most amazing PD training I've been to in 40 years!"
"What I learned here is outside of the box. I know I can use storytelling in everything in my classroom."
"Amazing! We laughed, we cried, we shared without fear."
"Enlightening and motivating."
VIDEOS – TEACHERS INTERVIEWS
After the training was completed we interviewed some of the teachers that attended. Please click on each name below to watch the video.

ABOUT THE 2022 TRAINING
2022 SCHEDULE
♦ Dates: Monday, 6/27–Thursday, 6/30
♦ Time: 9:00am to 4:00pm Daily
♦ Location: Birdhouse Arts Center 7 N. Main Street, Lambertville, NJ
♦ Led by: Professional Storytellers/ Teaching Artists
♦ Tuition: $675

RECEIVED
20 Professional Development Hours
Resource Materials
Optional Evening Activities

WHAT DID PARTICIPANTS DO

♦ Used generative writing lessons to encourage personal growth and connect with others.

♦ Explored inclusive story pedagogy that resonates broadly and supports cultural pluralism.

♦ Learned storytelling techniques aligned with DEI principals and Core Curriculum Standards.

♦ Learned how to support observation and focus, developing skills in pattern recognition and abstract thinking.

♦ Learned how to Incorporate storytelling into Math, Science, Social Studies, and Language Arts to develop group problem solving and syntactical thinking among students with multiple learning styles.
Enjoy the Full Lambertville/New Hope Experience
MORE INFORMATION: Linda Helm Krapf, Executive Director 609.430.1922, Linda@storytellingartsinc.org.
ONLINE REGISTRATION: storytellingartsinc.org/institute