Using storytelling to build literacy, strengthen communities, and nurture the human spirit.

The Untold Stories of Storied People Project
Sorry, we no longer accepting applications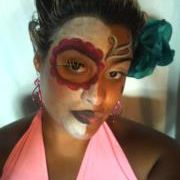 "My humanity is bound up in yours, for we can only be human together." Desmond Tutu
Desmond Tutu's words have inspired Storytelling Arts to commit time, energy, and resources to validating, promoting, and amplifying untold stories of those impacted by systemic by racism, sexism, xenophobia, and other forms of injustice and inequality. The Untold Stories of Storied People Project engages socially responsible arts and humanities organizations as partners in the creation of community-based safe havens for sharing untold stories as testimonials to the strength and resilience of the marginalized, disenfranchised, and unheard. By listening to and learning from underheard voices, together we build understanding, illuminate new perspectives, and deepen connections with those around us.
Cynthia Renta is the strategic coordinator of the Untold Stories of Storied People Project. She is developing community partnerships to identify Phase I storyteller participants in Jersey City, New Brunswick, Morris County, and Trenton. In collaboration with partners, Cynthia is designing training to teach new storytellers how to sculpt their stories and strengthen their storytelling performance skills. Public storytelling performances that showcase and amplify the untold stories of project participants will be held this fall. Through civic engagement the project will enlist both storyteller and listener in shared agency for social change. Cynthia is a multi-disciplinary, Afro-Indigenous LatinX Caribbean storyteller, ritual performance artist and folk dancer, cultural producer, and program director originally from Jersey City, NJ. She has spent two decades performing, producing, and directing community-participatory art experiences centering the praxis of liberation and evolution for BIPOC communities.

Cynthia's email address: cynthia@storytellingartsinc.org
---
WHAT IS STORYTELLING
---
Storytelling is an improvisational spoken word art form. Like jazz and hip hop, storytelling relies on rhythmic and narrative techniques to produce an emotional connection.
Giving Thanks to Our Funders